Revitalizing cream
For all skin types. Anti-age care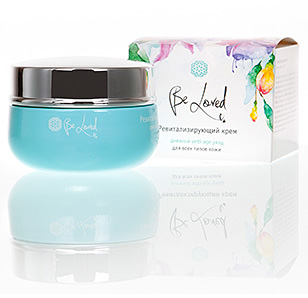 Revitalizing anti-aging day care cream, which recovers cells, making your skin look younger and healthier. Its nourishing capabilities and the way it matches natural cells functioning create perfect conditions for full skin recovery at cellular level. Powerful A.S.T.-base complex provides intensive hydration and improves elasticity; structuring A.G.E. – matrix complex helps to ease the appearance of aging signs, affecting causes of wrinkles and skin imperfections. The soft texture of the cream literary melts on skin, covering it with tender floral scent and giving a feeling of comfort.
50 ml 1,7 fl.oz
Made in Russia
With the help of A.S.T.-base complex, this intensively rejuvenating cream recovers natural barrier, which improves skin hydration and protection. The formula of the cream is enriched with A.G.E. – matrix, regenerative components and powerful antioxidants, which strengthen, clarify and rejuvenate skin. The cream improves skin elasticity and resilience, lifts up face and removes wrinkles.
For:
Those who are looking for personal treatment program.
Those who appreciate stylish packaging.
Those who consider quality and safety important.
Those who need to see results.
Building material for cells CellCode®57 (21 amino acids, 19 vitamins, 8 mineral salts, 6 nucleoids, 3 carbohydrates.) – 57 elements for a normal cell functioning. It's an exclusive development of Russian scientists, which is able to start regenerative processes in skin, stimulate new cells creation and provide a long-term anti-aging program. It's easily absorbed by skin, while bringing active components to the deepest layers of epidermis.
A.S.T. – base (L-PCA amino acid, hydrolyzed elastin)- powerful natural components complex, which fit natural skin structure and supports necessary hydration level. The components strengthen each other's functions and provide skin hydrolipidic rebalancing.
A.G.E.-matrix (resveratrol, marine collagen, ceramides)- powerful anti-aging complex fights the cause of wrinkles appearance. Active protein literary pushes out wrinkles from the inside, improving collagen and elastin fibers. Resveratrol (grapevine antioxidant) protects from UV-radiation, natural ceramides moisturize skin, preventing dehydration.
Light texture is instantly absorbed and doesn't leave a feeling of a mask on your face.
WATER, CELLCODE®57, A.G.E.-MATRIX (RESVERATROL (AND) HYDROLYZED COLLAGEN (AND) CERAMIDES), A.S.T.-BASE (SODIUM PCA (AND) SODIUM HYALURONATE (AND) HYDROLYZED ELASTIN), ARACHIDYL ALCOHOL (AND) BEHENYL ALCOHOL (AND) ARACHIDYL GLUCOSIDE, ISONONYL ISONONANOATE, ETHYLHEXYL STEARATE, GLYCEROL, GLUCONOLACTONE, AMORPHOPHALLUS KONJAC ROOT EXTRACT, SQUALANE, PUNICA GRANATUM SEED OIL, PRUNUS ARMENIACA (APRICOT) KERNEL OIL, UBIQUINONE, HYDROXYETHYL ACRYLATE/METHOXYETHYL ACRYLATE COPOLYMER (AND) SODIUM ACRYLATE/SODIUM ACRYLOYLDIMETHYL TAURATE COPOLYMER, CYCLOPENTASILOXANE (AND) DIMETHICONE CROSSPOLYME, GLYCYRRHIZA GLABRA ROOT EXTRACT, HELICHRYSUM EXTRACT, IMPERATA CYLINDRICA ROOT EXTRACT, RICE BRAN EXTRACT, ALOE BARBADENSIS LEAF EXTRACT, PHASEOLUS VULGARIS SPROUT EXTRACT, PANAX GINSENG ROOT EXTRACT, CENTELLA ASIATICA EXTRACT, SPILANTHES EXTRACT, TOCOPHEROL, BORON NITRIDE, ALLANTOIN, SILVER CITRATE, FRAGRANCE.
Apply onto clean skin on face and neck, avoiding eye area.
Spread evenly with easy massaging motions.
Suitable as a make-up base (use 15 minutes before make-up and 30 minutes before going outside).

How to apply the cream according to massaging lines

Massaging lines correspond to collagen fibers and lymphatic system. The lines go through the least stretched skin zones, which helps to reach maximum benefit from the treatment.

Line application directions

Forehead - from center towards temples.
Nose – downwards on sides and from tip towards nasal bridge.
Chin – from center along protruded part of lower jaw towards earlobes.
Cheeks – from both mouth corners towards middle of pinna; from nostrils towards temples.
Neck – the product is applied to right and left sides, one-at-a-time. Spread the cream bottom-up towards chin, avoiding thyroid gland area. On the nape of your neck the cream should be applied top down towards shoulder blades.
Do not use if intolerant to any of the components
Рекомендуем также