Ultra mattifying mask
For oily and acne-prone skin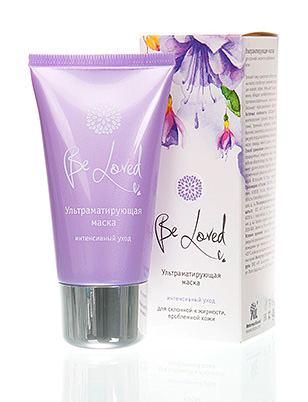 The mask is based on French green clay, mined at the bottom of the sea by the northern coast of Brittany, which is a protected and environmentally friendly area. For thousands years, the clay had been soaking in different microelements and minerals from the sea and now it is ready to share them with your skin. More than that, green clay is a powerful absorbent, which easily eliminates all the impurities, and turns into airy bubbles, melting gradually on your skin, once applied. It makes your skin perfectly matt and fresh. Plant extracts complex and natural oils take care of your skin, deeply nourishing and hydrating it.
50 ml 1,7 fl.oz
Made in Russia
Refreshing mask, based on French green clay makes skin perfectly matt, stabilizing oil glands functioning, helps to lower skin sebum secretion. More than that it reduces irritation, has antibacterial and anti-inflammatory properties and shrinks pores.
For:
Those who are looking for personal treatment program.
Those who appreciate stylish packaging.
Those who consider quality and safety important.
Those who need to see results.
Effectiveness is proven*
Skin is perfectly matt and fresh after first use - 100%
Pores are shrunk – 78%
*According to the results of a two-week-volunteer testing with 18 women participants aged 25-40.
Building material for cells CellCode®57 (21 amino acids, 19 vitamins, 8 mineral salts, 6 nucleoids, 3 carbohydrates.) – 57 elements for a normal cell functioning. It's an exclusive development of Russian scientists, which is able to start regenerative processes in skin, stimulate new cells creation and provide a long-term anti-aging program. It's easily absorbed by skin, while bringing active components to the deepest layers of epidermis.
WATER, CELLCODE®57, CETEARYL ALCOHOL (AND) CETEARYL GLUCOSIDE, MONTMORILLONITE, KAOLIN, GLYCEROL, DECYL GLUCOSIDE, CYCLOPENTASILOXANE, BROMELAIN, HECTORITE AND HYDROXY ETHYL CELLULOSE, MENTHYL LACTATE, PEG-40 HYDROGENATED CASTOR OIL, TOCOPHEROL, SALVIA OFFICINALIS LEAF EXTRACT, OCIMUM BASILICUM EXTRACT, EUTREMA JAPONICUM ROOT EXTRACT, HAMAMELIS VIRGINIANA (WITCH HAZEL) EXTRACT, GLYCYRRHÍZA GLÁBRA ROOT EXTRACT, SALIX ALBA BARK EXTRACT, ARCTOSTAPHYLOS UVA URSI LEAF EXTRACT, CUCUMIS SATIVUS FRUIT EXTRACT, LITHOSPERMUM OFFICINALE EXTRACT, SAPONARIA BARK EXTRACT, ZINC OXIDE, ASCORBYL GLUCOSIDE, LAVENDULA ANGUSTIFOLIA OIL, CITRUS AURANTIUM (NEROLI) OIL, XANTHAN GUM, SILVER CITRATE, TEA TREE OIL, ALLANTOIN, FRAGRANCE.
Apply to dry and clean skin, avoiding eye area.
After 15-20 minutes remove leftovers with a wet sponge and rinse with warm water.
Use 1-2 times a week.
Do not use if intolerant to any of the components
Рекомендуем также