Ground coffee DECAF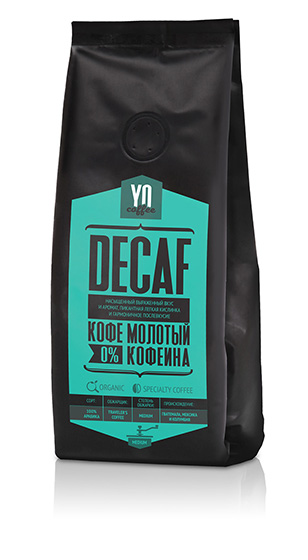 A mixture of 3 varieties of selective medium-roasted Arabica, cultivated at the best coffee plantations, has a rich and intense taste with a slight sour hint and a balanced aftertaste. Such coffee doesn't contain caffeine, but still has a traditional deep taste of a familiar drink.
Net weight: 200 g
Made in Russia
Можно оплатить с подарочного счета
This blend consists of single origin selective Arabica from Guatemala, Mexico and Colombia.
Decaf coffee is suitable for everyone:
During pregnancy and lactation.
In case of high blood pressure.
In case of caffeine intolerance.
In case of nervous irritability
Medium roast makes the beverage flavor tangy, saving, at the same time, its mild taste and full-bodied aroma.
Standard medium coffee grind is suitable for the most popular coffee types. It has an excellent taste and easily stays in coffee filters.
For:
Those, who know about coffee.
Those, who need energy.
Those, appreciate beans quality and roast.
Specialty coffee type is choice coffee beans from the world-class plantations. Such coffee is grown in ecologically clean areas and is harvested manually. Beans are thoroughly sorted according to the size and quality, then processed naturally. Only 10% of world's coffee correspond to such high quality.
Roasting- each coffee type is roasted differently in a special and unique way, certified by roast experts.
Grinding and packaging right after roasting saves the original taste and rich flavor of coffee beans.
Each package has a degassing valve, which releases carbon dioxide and doesn't let oxygen in, saving original coffee flavor and taste, while stored.
Recommended directions for use.
Prepare in a coffee machine, using your favorite mode and enjoy.
Pour 250 ml of boiled water over 4 teaspoons of coffee in a French press*, steep for 4 minutes. Enjoy.
*8 teaspoons per 500 ml of water.
Рекомендуем также