Yo Coffee Collection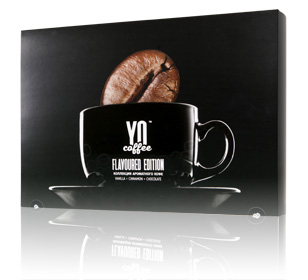 Aromatic collection for real coffee lovers. Three different flavors of traditional Brazilian Arabica: tender vanilla, spicy cinnamon and noble chocolate. Which one is your favorite?
3 packages (120 g each)
Можно оплатить с подарочного счета
Vanilla. Indonesian vanilla gives tender sweet aroma and gentle creamy aftertaste.
Cinnamon. Picked in Sri Lanka, cinnamon add rich and spicy taste to the coffee.
Chocolate. Ecuador cocoa gives a slightly bitter hint and a noble aroma of natural chocolate.
The drink is based on 100% Arabica, grown in Alta Mogiana region in Brazil. This coffee is traditionally considered one of the best coffee varieties. The climate of this region is idyllic for coffee plants, which makes the beans' texture better and the drink itself is balanced and clean.
For:
Those, who know about coffee.
Those, who need energy.
Those, appreciate beans quality and roast.
Those, appreciate beans quality and roast.
The unique combination of this premium coffee and natural aroma is delicious and healthy at the same time.
Medium roast makes the beverage flavor tangy, saving, at the same time, its mild taste and full-bodied aroma.
Grinding and packaging right after roasting saves the original taste and rich flavor of coffee beans.
Ground coffee Vanilla
Ingredients: ground roasted coffee, natural vanilla.
Ground coffee Cinnamon
Ingredients: ground roasted coffee, natural cinnamon.
Ground coffee Chocolate.
Ingredients: ground roasted coffee, nature-identical flavoring "chocolate", natural cocoa powder.
Recommended directions for use.
Prepare in a coffee machine, using your favorite mode and enjoy (4 teaspoons per 250 ml water).
Pour 250 ml of boiled water over 4 teaspoons of coffee in a French press*, steep for 4 minutes. Enjoy.
*8 teaspoons per 500 ml of water.
Рекомендуем также