Aloe
Powdered vitamin drink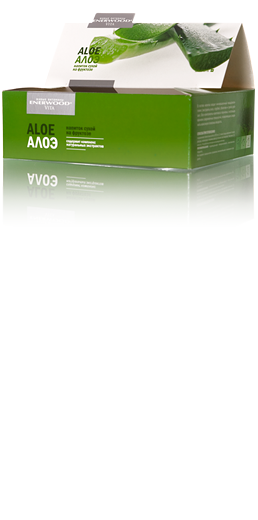 Refreshing vitamin drink with aloe extract stimulates appetite, combined with food fibers, it affects mucous membrane functions. Sea buckthorn and reishi mushroom extracts add vitamins and minerals, which makes the beverage delicious and healthy.
For:
Those who love delicious tea.
Those who look after health.
Those who care for tea ingredients.
Those who want to make tea at any place.
Net weight: 180 g
30 bags (6 g)
Made in Russia
Можно оплатить с подарочного счета
Enerwood Vita contains a unique combination of extracts:
Bran – normalize gastrointestinal functions, contain vitamins A, E, C, B-group vitamins (B1, B2, B6, PP), amino acids and microelements.
Sea buckthorn – has a general health strengthening, anti-inflammatory and recovering action. Contains vitamins C, B1, B2, E (tocopherol), folic acid, rutin, carotene and carotenoids, sugars, organic acids, microelements (potassium, calcium, magnesium, iron).
Reishi mushroom – natural adaptogen and immune booster, stimulates interferon production (a type of protein, which protects organism from viruses and infections), helps to cope with stress and its negative consequences.
Aloe Extract – has an adaptogenic, tonifying, antiseptic, choleretic and slightly laxative effect. Improves cells metabolism and tissues regeneration, having and antimicrobial action.
Natural and healthy – all the vitamins, minerals and amino acids, contained in the beverages, have natural origin. Modern production technologies and correct storage save all the healthful benefits of the components. It contains pectin, which adsorbs and eliminates toxins, normalizing gastrointestinal tract functions.
The tastes of the beverage collection are based on a unique complex (bran, sea buckthorn, reishi mushroom, berries and plants extracts.) Each of those health components complement each other, intensifying their actions.
Contains important acids – tartaric acid, succinic acid, ascorbic acid, which are powerful antioxidants having a beneficial effect on organism.
Colorants and sugar free –The beverages are colored with natural ingredients, such as beetroot extract, beta-carotene, red grapes peel and etc. Sugar is substituted with fructose and stevioside – a natural sweetener, which 24-times sweeter, than sugar and which contains vitamins and microelements, improves digestion and metabolic process, without raising blood sugar.
Simple and convenient – it is very convenient to take it with you in a handbag or make it at home, at work or on the way. The preparation process is so easy, that any child can cope with it – just mix it with water.
Beneficial – Enerwood Vita package contains 30 bags, which is 6 liters of a delicious and healthy drink, based on natural ingredients.
Ingredients: fructose, tartaric acid, succinic acid, ascorbic acid, pectin, natural water-soluble food fibers; extract complex: aloe extract, sea buckthorn extract, bran extract, reishi mushroom extract; stevioside (natural sweetener), chlorophyllin natural colorant, malt natural colorant, aloe nature-identical flavoring.
Nutrition value of 1 portion (6 g of powdered product) –18,3 kcal.
Vitamins, microelements and amino acids in 1 portion (6 g of powdered product)
Vitamins
В1
0,15 mg
В2
0,24 mg
В3
0,007 mg
B5
0,001 mg
B6
0,36 mg
PP
1,2 mg
А (including carotenoids)
0,65 mg
С
14,2 mg
Е
1,7 mg
Microelements
Potassium
538 mg
Phosphorus
218 mg
Magnesium
56 mg
Amino acids
Lysine
109 mg
Methionine
23 mg
Tryptophan
11 mg
Leucine
142 mg
Isoleucine
58,4 mg
Arginine
138 mg
Histidine
53,2 mg
Pour 200 ml of water over bag contents in a glass, stir intensively until dissolves fully.
Steep for 1-2 minutes.
Can be consumed hot or cold.
Do not consume if intolerant to any of the ingredients
Рекомендуем также