Cure Mask (Lavender)
For oily roots and dry tips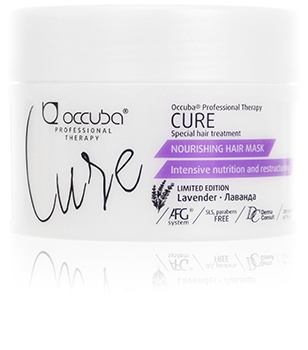 Fragrant mask with lavender oil is suitable for mixed type hair (oily roots and dry tips). Lavender mask revitalizes skin, reducing oiliness, but yet nourishes and moisturizes hair to prevent split ends.
Size 200 ml
Можно оплатить с подарочного счета
Cure mask nourishes and moisturizes hair, revitalizing skin, reducing oiliness. Lavender and jojoba oils make hair look beautiful and shiny.
AFG-System® – restores hair structure, hydrating it.
Lavender oil revitalizes skin, nourishing hair from roots to tips.
Jojoba oil – nourishes and softens hair, making it silky and shiny.
For:
Those, who want to get professional care at home.
Those, who want to get healthy and strong hair.
Those, who look for sulfate-free shampoos.
Those, who care about ingredients.
Exclusive formula of the mask, based on natural components, will make your hair smooth, soft and silky, as if after a spa- treatment in a salon.
Occuba hair mask gives an instantly visual result, after the first use. So it is the best option to start with, if you want to get to know Occuba Professional line.
Each mask in Occuba Professional collection has a rich and unique aroma, which makes it such a pleasure to use.
Occuba Professional products are produced in Germany, by JoJo Haircosmetics. This company has been creating professional hair care cosmetics for 30 years (since 1983), it has its own research centers and laboratories.
Ingredients: AQUA, CETYL ALCOHOL, COCAMIDE MEA, SIMMONDSIA CHINENSIS, CETRIMONIUM CHLORIDE, DISTEARYLDIMONIUM CHLORIDE, CITRIC ACID, AFG-System® (FRUCTOSE, GLUCOSE, ALANINE, GLUTAMIC ACID, ASPARTIC ACID), HEXYLENE GLYCOL, SUCROSE, UREA, DEXTRIN, HEXYL NICOTINATE, PARFUM (HEXYL CINNAMAL, CITRONELLOL, GERANIOL, CITRAL, D-LIMONENE, LINALOOL, COUMARIN, EUGENOL), PHENYLPROPANOL, PROPYLENE GLYCOL, METHYLISOTHIAZOLINONE, LAVANDULA ANGUSTRIFOLIA OIL, CI 16255, 42051.
Active components:
AFG-System® – it is unique amino-acid complex, based on fructose and glucose, which recovers hair, making it elastic and soft.
Lavender oil revitalizes skin, nourishing hair from roots to tips. Reduces skin oiliness, preventing ends splitting.
Jojoba oil – moisturizes hair, improving its structure, recovering hair bulbs and making hair look attractive and beautiful.
Use once a week or when necessary.
Option 1
For a better result apply the mask to dry hair.
Leave for 20-30 minutes.
Rinse with warm water, wash your hair with a shampoo after.
Option 2
Apply to washed, damp hair.
Spread evenly.
Leave for 5-10 minutes, rinse thoroughly.
Рекомендуем также